Developing ADAS Sensors for Improved Safety in Advanced Vehicles
21st November 2018 @ 2:00 pm

-

5:30 pm

GMT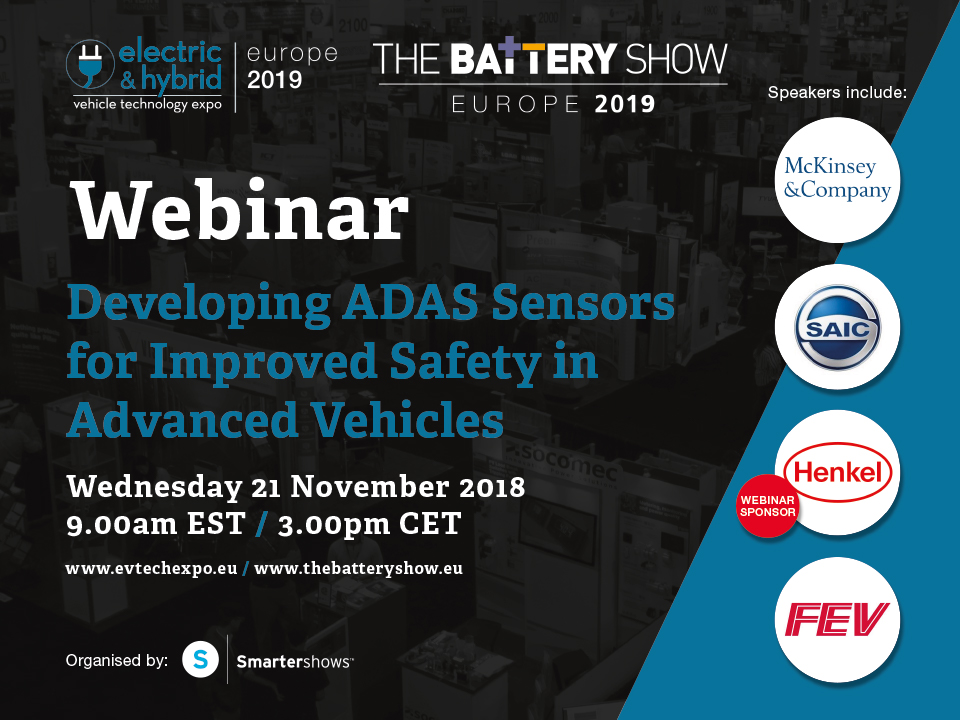 Henkel, FEV, SAIC and McKinsey discuss ADAS sensor development in a free webinar.
Smarter Shows are delighted to present an exciting free webinar from Electric & Hybrid Vehicle Technology Expo Europe 'Developing ADAS Sensors for Improved Safety in Advanced Vehicles', sponsored by Henkel.
The free webinar will be taking place on Wednesday 21 November 2018 at 15.00 CET/ 9am EST / 2pm GMT.
As electrification, the connected car and autonomous driving development converge en route to developing the car of tomorrow, ADAS (Advanced Driver Assistance Systems) must play their part in creating a safer, more efficient and more comfortable driving experience. The ultimate goal is for ADAS to reduce driver, passenger and pedestrian accidents with improved automatic safety systems. Core functionalities including adaptive cruise control, autonomous emergency braking (AEB) and collision mitigation have had demonstrable success; for example, AEB has been cited as reducing real-world crashes by 38%.
Robust and high-performing sensors are critical parts of ADAS, pivotal to making driving safer and eventually enabling level 5 autonomy. A lapse of driver concentration could have lasting consequences, but equally, system and sensor failure in ADAS can have catastrophic outcomes. It doesn't matter whether this is resulting from manufacturing error, drastic environmental changes, accidents or other key factors that might affect them.
The webinar takes a timely look at sensor performance, design and assembly, allowing you to ask questions of key industry experts as to optimal sensor design and testing, which components and processes are integral and where improvements are needed. How does the new generation of electric vehicle impact ADAS sensor development and what are the power and system-management specifications within H/EVs?
Our industry expert speakers include:
Dr Adam Hilton – European Business Development Manager – ADAS & Safety at Henkel Technologies
Dr David A. LaRue – Sr. Technical Specialist: Functional Safety and Autonomous Operation at FEV North America Inc
Martin Kellner – Senior Associate at McKinsey Center for Future Mobility
Madalina Dobroui – System Engineer at SAIC Motor Technical Centre
Topics discussed within the webinar include:
The ADAS sensor needs for the car of tomorrow
The design, assembly and integration challenges of developing ADAS sensors
Where weaknesses in ADAS sensors might be and how to address them
Where sensor software and hardware meet and the solutions to functionality challenges in environmental extremes of hot, cold, moisture etc.
The webinar will include an interactive Q&A, during which you can put your questions to leading industry experts.
Learn more about the webinar and register for your place. If you can't make the webinar, register anyway and the recording will be sent to you when it's over.