Home to one of Morocco's oldest, and largest, phosphate mining and processing operations, the Ouled Abdoun Basin was the birthplace of the Office Chérifien des Phosphates (OCP). It opened its first mine in Khouribga (located within the Ouled Abdoun Basin) in 1921, and the Moroccan state-owned phosphate rock miner, phosphoric acid manufacturer, and fertilizer producer, has grown to become the largest such organization of its kind globally.
Its mines in Khouribga have the densest phosphate deposits in the world, and OCP holds a market share of the world's phosphate product market which exceeds 30%. Nonetheless, OCP was looking to revitalize and repurpose underutilised swathes of this land, so in 2018 a working agreement was reached between UTAC, FEV Group, and OCP for the development of a 500-hectare chassis development, testing, and homologation complex: the Morocco Mobility & Automotive Centre.
A warm desert welcome
'Without giving too much away, construction cost between €60m and €80m,' says UTAC chairman Laurent Benoit, noting the site as the first of its kind in North Africa, and a first for UTAC; to date it is the only proving ground UTAC has built, not acquired. Benoit says this was achieved with some difficulty. "We began the project in 2018 and it took some time to get the proving ground ready because of Covid-19 and extra difficulties in negotiations with the Moroccan authorities."
As part of the agreement with OCP, half of all on-site employees must be regional, with most remaining employees sourced from other parts of Morocco. "This project is giving new life to the region," says Bashar Al Taweel, general manager of the center.
UTAC and FEV's joint venture offers a distinct complement to similar European proving grounds. It represents the continuation of a recent slate of heavy investment from UTAC, which has included €20m for its French Linas-Montlhéry test center, building a laboratory and tracks dedicated to automated and connected vehicles, TEQMO, and 5G connectivity.
Unlike Montlhéry however the climate in Khouribga is predictably hot and dry year-round. As such, the 30km of highly specialised track on offer will require less maintenance than UTAC's French, German, and British offerings. Importantly the perennially warm weather means near-continuous testing capabilities.
Further, decades of intense mining have rendered an artificially craggy topography which stands in contrast to the local region, ideal for off-road and durability testing. Better still, the Atlas Mountains are on the doorstep, a mere 70km away.
The site is not officially open yet, but the world's fourth-largest vehicle manufacturer, Stellantis, has been a permanent resident of UTAC's largest workshop for the last three months.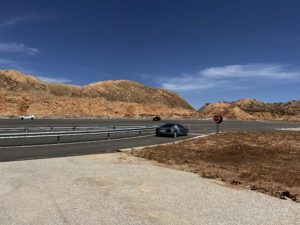 Track meet
The Morocco site is split between UTAC's four workshops, FEV's testing facilities, and 14 distinct tracks. To solidify its position as that which FEV North Africa general manager Oussama Hafsi referred to as a "unique offering between testing, development, and homologation," many of the site tracks have been laid according to strict European and international regulations.
Arguably the most impressive of these is the coast-down track. During the planning and construction phase, the Morocco JV necessarily heeded EU6d regulations for road load and dynamometer setting, which states: "The longitudinal slope of the test road shall not exceed ± 1 per cent. The local slope between any points 3 metres apart shall not deviate more than ± 0,5 per cent from this longitudinal slope."
The uneven terrain of a semi-mountainous – and still operational – phosphate mine in the North African desert, presents quite the challenge.
To ensure the track was complaint with the regulation commission, an exacting 0.7% gradient was set, with the deviation of the longitudinal slope assessed at three-meter intervals, ensuring parity across its 4km decline. Construction of the coast-down track was so demanding it required the development and use of a machine which did not exist prior to site purchase.
UTAC and FEV also needed a deeper bed of tarmac, which will ensure the track will pass approval for the testing of heavy domestic vehicles (HDV). The track is already compliant where concerning EU and Japanese OEMs, and plans are in place to meet the necessary regulations for US and Korean OEMs.
The Morocco JV is also home to a series of acoustic approval tracks. Among them is a 500m long, 20x20m testing square approved for ISO10844, including vehicle noise testing to ECE 51.03, minimum sound testing to ECE 138, and tire noise testing as per ECE 117. The banked sides of this track ensure the area has an ambient sound level which does not exceed 50db and can dip to 40db at times. Both UTAC and FEV stressed the likelihood of track accreditation for homologation testing to ISO17025 by the end of the year when the center opens.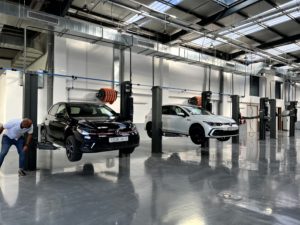 Away from the tarmac
Off the track, UTAC's development and validation offering spans four workshops and three climatic chambers. The largest of its workshops is currently inhabited by Stellantis and measures in at 240m2. Each of the workshops has its own private car park, the smallest of which can hold 30 vehicles.
The three climatic chambers UTAC operates cost a combined €500,000, and with good reason. The larger of the three measures 72m3, can reach temperatures ranging from -30°C to +60°C, and can reach humidity levels of 95%. The smaller chambers are 45m3 in size and can reach temperatures between -25 °C and +40°C.
There are plans already in place to add a sun chamber, rain chamber and dust chamber. The sun chamber will have upwards of 800 infrared bulbs installed which are likely to enable temperatures of +60°C.
"Morocco is a cost-competitive country with an excellent skill base," says Benoit, referencing the new site as a gateway to Europe for French, British, Swedish, German, and Asian OEMs. "We've been careful to not compete with our other proving grounds," adds UTAC CEO Connor McCormack. This delineation of capabilities and responsibilities extends to the relation between UTAC and FEV, which is purely administrative. Their respective customers are distinct and there is no cross-pollination.
Nonetheless, FEV's expertise in engine testing and vehicle emissions have been fully unleashed within the same complex as UTAC, the culmination of which is a EU6d compatible, 4×4 chassis dynamometer (dyno) with temperatures from -20°C to +50°C, a 23°C soak room with temperature boxes, cold boxes to -20°C, 250kW dyno engine test benches, and portable emissions measurements systems (PEMS) testing. Emissions analyses are made possible with 7km of circuitry, fed by 31 different, highly precise gas mixtures.
All engine testing is centralised through FEV's own proprietary MORPHEE Standard and Configurable Application for Laboratory Environment (SCALE) software, with the test benches mounted on air springs to mitigate vibration. Each test may take two or three weeks to prepare, and a day to conduct.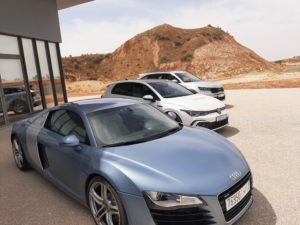 Present and future
The site is fully operational, and already plans are in place to enhance it. "It's early days, but we'd certainly look at integrating simulation in the future," says McCormack, noting the 15% capital entry which UTAC holds in AVSimulation and its SCANeR Studio. All senior executives were confident – if not adamant – the site would be fully accredited for testing and certification by the end of 2023. Despite the challenges UTAC and FEV faced in bringing this site to life, it holds immense potential to expedite efforts in development, testing, and homologation for regional and international OEMs.