Amsted Automotive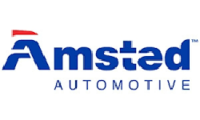 Amsted Automotive is a leader in drivetrain solutions, is uniquely qualified to address the successful transition from internal-combustion-engine vehicles to electric vehicles.
These technologies include Amsted Automotive's patented DCC, which allows the driveline system to engage and disengage the drive axles, to conserve energy and maintaining on-road and off-road capabilities. Electric pickups currently in production utilize this DCC technology, which can extend the range of an EV up to 10%, depending on the application. A presentation on this novel multi-functional clutch technology can be downloaded at AmstedAuto.com.
Additional Amsted innovations for next-generation EVs include its Powershift Gear Box, Multispeed EV Shifting and Electric Park technologies.
Amsted Automotive is a group within Amsted Industries, a diversified designer and manufacturer of cutting-edge industrial solutions serving the railroad, vehicular and construction markets with a global footprint spanning 65 facilities in 10 countries across 6 continents. In 2021, the company brought together two of its century-old, core Tier 1 automotive supply business units – Means Industries and Burgess Norton – and added SMW Manufacturing through acquisition to form a new and innovative technology team: the Amsted Automotive Group.
The integration provides an expanded global presence with 21 facilities in North America, Europe, and Asia to serve the global automotive customer base with a robust manufacturing footprint, producing over 100 million components and assemblies annually. The group combines design and engineering expertise, strategically aligned to be a nimble leader in advanced metal-forming and powder metal manufacturing of soft magnetic composites and advanced flow-formed products. These advanced metal forming techniques are integrated with electro-mechanical clutch design capabilities to produce electrified, hybrid and traditional propulsion solutions and builds on Amsted Automotive's integral role in global advanced transmissions designed in North America, Europe, and Asia.