Electric Assisted Vehicle (EAV), which launched in 2018 from a group of ex-F1 and aerospace engineers, has launched an electric mobility solution to help urban congestion and pollution.
The EAVan, which was shown off at the Oxford EV Summit, takes the form of an electric bike with a cargo area attached to the back. The eCargo bike, therefore operates under the current regulations for eBikes, rather than a van.
Built on a 'Cloudframe' chassis design, the EAVan has been designed to be fully modular. This gives it an extremely wide range of uses.  From a delivery van or a pick-up – which can be used to clear rubbish or move tools around a site – to a paramedic or security patrol vehicle, the EAVan can include multiple bespoke variations and options. More interestingly, the chassis and body cab can be evolved into both longer and wider 'EAVehicles'. This provides a potential platform for larger vans and Personal Transport Vehicles (PTVs) including taxis, minibuses and even personal vehicles to replace individual cars.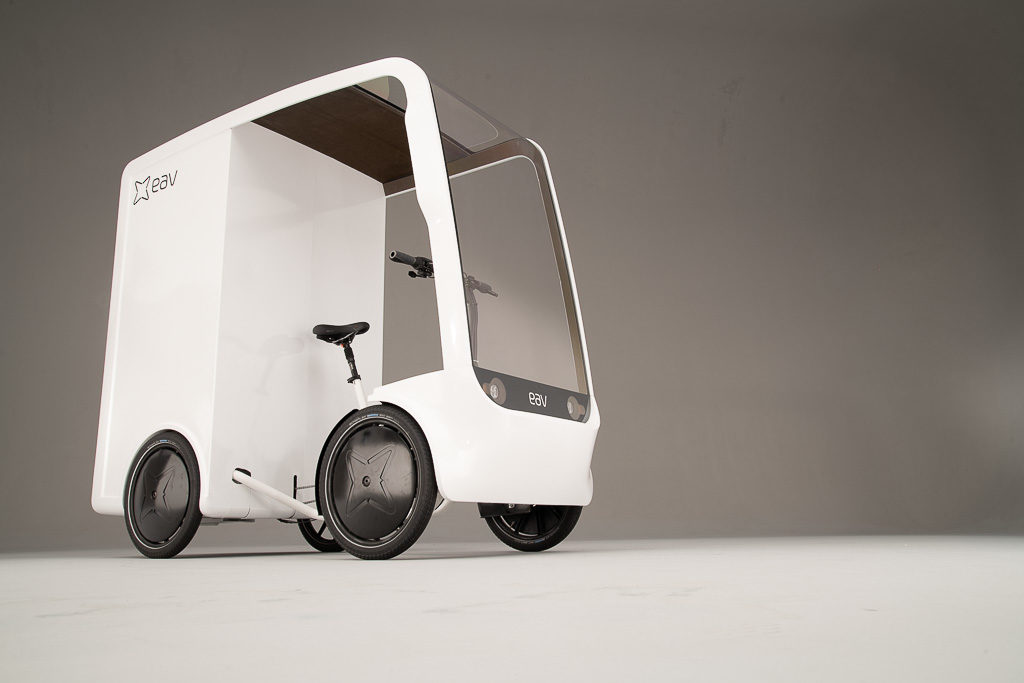 "We wanted the EAVan to be as usable as possible by anyone." said Adam Barmby, technical director and founder of EAV. "Getting people out of vans and onto eCargo bikes isn't easy if they think it's going to be an awful experience. Being exposed to the elements or being low to traffic isn't going to appeal to anyone. So, we started with the idea of the outer body of a light commercial van and we added the electric pedal-assist propulsion system.
We've used all the electric assistance which the regulations permit including a thumb throttle, which we call an 'e-nertia' switch, which accelerates the EAVan up to about 3mph. After that, simply turning the pedals provides enough power to move up to 120kgs of payload in the cargo area up to a maximum assisted speed of 25kmh. The amount of assistance can be adjusted, and we have our own gearbox so using the EAVan is very easy indeed. We regenerate power into the batteries under braking and free-wheeling to maximize the efficiency of the EAVan which has a range of up to 60 miles or further if you piggyback more batteries. It's simple, yet elegant and really enjoyable to use. And infrastructure is not an issue. We use a standard household plug to charge our interchangeable batteries so the EAVan is an immediate solution and incredibly cost effective."
EAV's next developments are on the production of a range of EAVehicles. This includes weather- proofing by adding doors, an undertray floor and in-vehicle heating and ventilation system.