David Finn, CEO and founder of Tritium, reveals to E&H Vehicle how the deal will enable the company to grow, realize new projects, and continue to develop charging solutions for future mobility
') } else if (width >= 425) { console.log ('largescreen'); document.write('') } else { console.log ('nompuad'); document.write('') } // -->
Australian DC EV charging infrastructure developer Tritium has announced that Gilbarco Veeder-Root (GVR) – a USA-based subsidiary of the Fortive Group specializing in convenience store technology and fuel dispensers – has made a minority investment in the company to accelerate international charging infrastructure development.
For Tritium, which is based in Brisbane, Queensland, and launched its first DC fast charger in 2014, the investment deal is an important milestone, and represents substantial backing for the company's long-term mission.
"It's a huge deal for Tritium, and a validation of the fact that the market really does believe the electric vehicle is coming," said CEO and founder David Finn. "That companies like GVR are looking to see how they can, over time, transition to supplying charging infrastructure to their convenience store customers? That's a big validation for us."
Gilbarco Veeder-Root will sell all of Tritium's solutions, and the investment will also enable the Australian company to scale up operations across the full spectrum of its business – including operational expansion in Europe and the USA, increasing production capacity, and furthering research and development.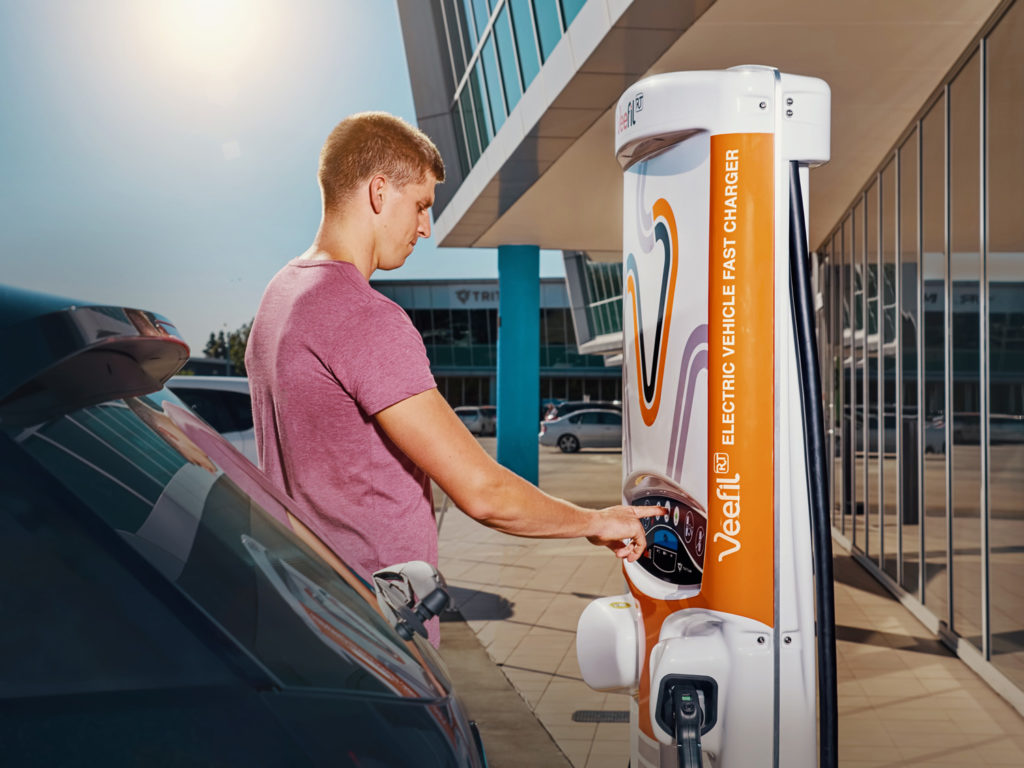 "It's about a complete introduction of our charging ecosystem to the marketplace," said Finn. [We provide] hardware, software and services. So it's about building out that capability as a company, globally, to be able to supply those three components.
"On the product and hardware side, we're focused on being able to do not just the high-power products which you see in the public space with projects such as Ionity – which are absolutely critical to the mass-market adoption of EVs – but also being able to make electricity in the most convenient form – so proper energy freedom for EV owners.
"It's about being able to take energy from public spaces, and shift the paradigm a little bit in terms of how you get energy for the home. Vehicle battery packs have only about 7-10% utilization on a daily basis, so there's a lot of opportunity to bring energy that way, so we're building out that ecosystem.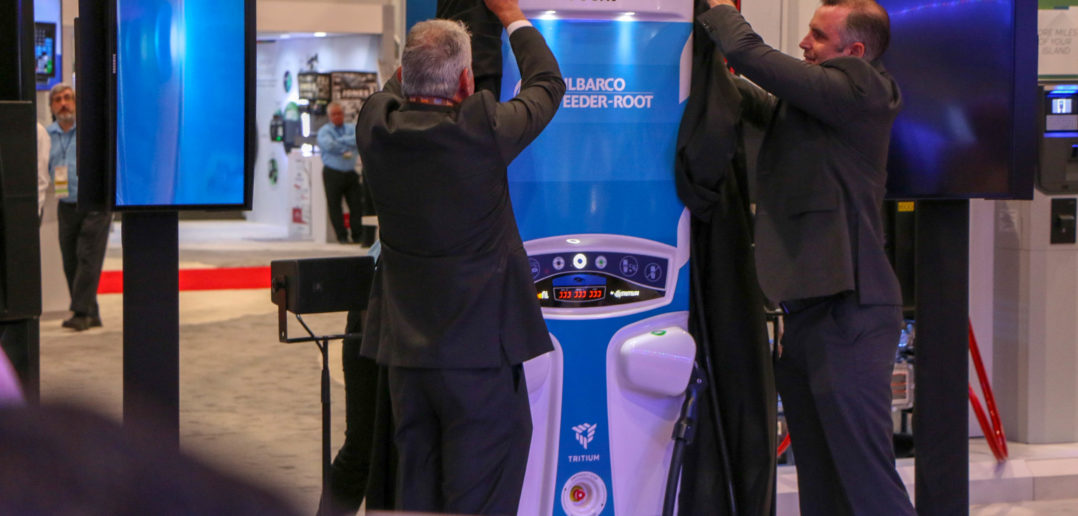 "On top of that, in terms of software, there's a platform that sits on top of our network – all of our chargers are connected. We really want to work with our customers – we're business-to-business – and work with other businesses to roll that out, to ensure that they can get the best possible return on their investment."
From the services side, it will be important for Tritium to support its customers with maintenance and servicing requirements – particularly vital given the complexity of some DC charging systems.
"This is not just a solar inverter that you bolt on to the outside of a house," said Finn. "These things are very large, they're installed in public locations, and our customers don't necessarily have the skill base to be able to maintain and service these products, so it's about creating a global offer of products and services for a global customer base.
Tritium was recently selected by the OEM-backed Ionity network project as one of its key suppliers, and Finn sees projects like the major JV charging network as vital to increasing adoption of EVs.
"We are building out our team to be able to take on more projects like Ionity. That project, which is backed by the automotive industry, is very focused on making sure that they're connecting cities so it doesn't impede the buying decision for EV owners," Finn said.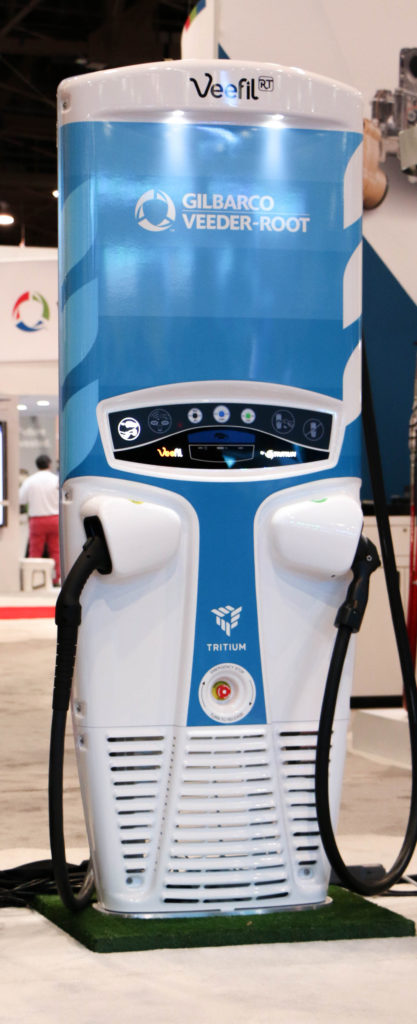 "I think as we see more EVs on the road, we will start to see what we're seeing in Norway where the best return on investment is to actually build out and transform the inner city to have DC fast-charge solutions, and we'll start to see more charging in the public space than we currently see.
"Once we start to see that [change], I've certainly got a lot of different models in my mind about how we can offer the suite of tools required for people to get a good return on investment. That's why I'm quite excited about the shared vision we have with Gilbarco going forward."
With major vehicle launches of mass-market, series production EVs continuing to come thick and fast, there's also a need to remain at the cutting edge of charging R&D – especially as charging rates of vehicles such as Audi's e-tron, Mercedes-Benz's EQC, Jaguar's iPace, Porsche's Taycan (to name just a few) continue to increase.
"It's critical to our mission, really, to be able to provide energy freedom to drive wherever they want," said Finn. "That's the big thing as we hasten the transition from the internal combustion vehicle to the electric vehicle, and we do need to be on that cutting edge.
"It's an interesting space to be in. Obviously, safety is the highest priority for all these companies that are involved, and it's interesting to see just how fast the technology is evolving, and the chaos that this creates with new standards coming in and so on. It's exciting times.
"And it probably will step up again because, I mean 350kW is a nice number – it [offers that]15 minutes, 300 miles, or if you spend 5 minutes you can pick up 100 miles – and it's a big step up from where we are at the moment, and [that charging rate]doesn't impede that buying decision. But as I said, I don't think it's going to stop there."
The investment deal means that not only are Finn and his team able to scale up Tritium's existing operation, but also that the company can remain looking firmly to the future.
"We'll keep innovating. We have all sorts of concepts and ideas in the pipeline at the moment," Finn said.
"And that's also part of this investment, where we can scale the company to the point where we have a true research group inside Tritium which is focused on what is happening four or five years out, rather than being focused on how quickly we have to get the next product to the marketplace. It's exciting for us to have that going on."