Stefan Krause, Founder, Chairman and CEO of B–ON, looks at what the next generation of electric vehicle (EV) start-ups will enable, why previous-gen EV 1.0 failed to deliver, and what might come next for the fleet industry and its electric future.
As global regulatory environments become more stringent, the need for fleet electrification is growing to be more urgent and imminent than ever before. According to BloombergNEF (BNEF), both two- and three-wheelers and buses have shown massive growth in EV penetration in recent years to meet this shift, creating almost 45 per cent of new sales. But, worryingly, (and confusingly) the commercial vehicle (CV) sector is lagging ridiculously far behind those numbers, with less than one per cent EV penetration measured in the same report. CVs account for five per cent of overall global emissions today, and with parcel deliveries expected to more than double over the next three years (to the extraordinary tune of over 260 billion parcels annually), this number is only going to get much, much worse. So why, of all sectors, are commercial vans and trucks not at the forefront of this shift?
The answer, I believe, is not because fleet owners don't want this change, or even because they aren't ready to make it. The problem is the total lack of availability of robust solutions in the market. Over the course of the past five years, the EV industry has seen a massive boom and an even harder crash, with dozens of companies that once promised to revolutionise this sector now either defunct or not far from it. These companies, many of them start-ups, were part of what we call EV 1.0. EV 1.0 was centred around asset-heavy, vertically integrated, proprietary infrastructure business models—an approach, by the way, which they borrowed from 100-year-old original equipment manufacturers (OEMs) that have dominated the industry since the invention of the automobile. This approach, unfortunately, proved to be an unmitigated disaster for the fledgling EV industry. The result was unfulfilled promises, skyrocketing scepticism in both the investment and media communities, and extensive programme failures in an era where the need for success and solutions was greater than ever. To hark back to that original metric—the result is that 99 per cent of CVs on the road today are still powered by internal combustion engines (ICEs).
To contextualise some of the problems we face, it's vital to look at how radically the COVID-19 pandemic changed the landscape over the past few years. When consumers could no longer go out and purchase the things they needed or wanted, or didn't feel safe doing so, they turned to have them delivered. E-commerce skyrocketed, and the "convenience economy" of bringing the world outside directly to our homes sharply changed consumer behaviours and expectations. Where before your package could comfortably take a week to arrive, suddenly consumers expected them in a day or two. This meant more trucks, running more routes to make more deliveries on an accelerated timeline; suddenly the picture of how we got to where we are today becomes a lot clearer. If we're going to meet the demand for those 260 billion packages to be delivered in 2026, it quickly becomes much more important that this is done in a sustainable way, that doesn't result in making our cities practically unliveable with the pollution that comes with billions more deliveries. The logical solution to this problem is a switch to zero-emission EVs. Easy, right? As we learned over the past five years, not so much. Simply replacing our polluting, petrol-guzzling ICE trucks with electric ones doesn't solve a single thing—a fleet of EVs without an accompanying suite of services is just as useless as an ICE fleet with no petrol stations. The vehicle is only a small part of the solution—and this is where EV 1.0 failed.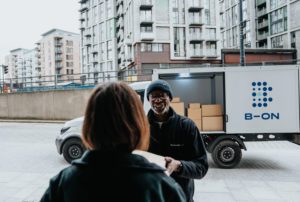 So, to bring it all together, what we are seeing now is a strange situation where EV 1.0 is failing, but there's still a growing demand for an EV capable of delivering – in every sense of the word. Driver inexperience, lack of service centres, unclear policies, and insufficient charging stations are just a few of the challenges that have contributed to the widespread downfall of early EV start-ups.
As we look into the future of electrification, the big question is this: how do we avoid the mistakes of EV 1.0 and create a meaningful, cohesive ecosystem that accelerates this change once and for all? How do we take the learnings of the industry's past failures and, much like the transition in the 90s and early 2000s from Web 1.0 to Web 2.0, create a solution that sticks?
It's not a rhetorical question, and the answer is seemingly right in front of us – we must solve, and plan for, the whole ecosystem before meaningful change can occur. Instead of fragmented pieces of a solution, divvied up across dozens of siloed partners without a comprehensive roadmap for customers, we need to provide fleet owners with the entire solution, through one partner, and guide them through the entire process. This new ecosystem solution must include education for drivers, about how to interact with their new vehicles to get maximum performance. It also must include access to charging and energy infrastructure to ensure that power is never far away. It must include service and maintenance solutions so that when problems inevitably arise, the loss in productivity is as minimal as possible. And perhaps most importantly, it needs to incorporate robust telematics and software capabilities, to enable fleet owners to optimise their performance in real-time. When we make the change as holistic as possible, as seamless as possible, this is when we truly unlock real change and secure a cleaner future for our cities.
A huge part of bringing about EV 2.0 will be educating consumers (and manufacturers) about how to work with the technology. Massive, hugely pervasive myths have had deep and long-lasting impacts on our collective psyches (range anxiety, anyone?). Correcting these perceptions and helping to familiarise people with the positive AND negative realities of the EVs of today, is first and foremost in making this change. Driver behaviour, for example, has a major impact on the range and performance of EVs over time. Offering in-cab training is a simple way to ensure fleets benefit from consistent performance and maximum efficiency, and all the long-term cost benefits that come with them. Even to hark back to the dreaded range anxiety, at a much more fundamental level, educating fleet owners about how much range they need to get their daily routes done would be a crucial shift. Customers are demanding 200-300 miles of range, when studies show that in the UK, the average route requires only 70 miles! Helping to close this massive delta through simple factual education paves the way for much more realistic discussions, and providing this education is a critical piece of a meaningful ecosystem.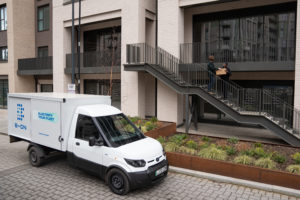 The need for software and integration capability is also now at an all-time high, and finding a technology partner may soon be the most crucial part for EV car makers on their production quest to completely embrace driver assistance, connectivity systems and advanced infotainment. This further highlights the importance of finding the right technology partner, with manufacturers increasingly pairing with tech firms and many of the emerging EV makers with backgrounds in IT. It appears the groundwork is being laid for deep-rooted partnerships that go beyond just providing infotainment systems, apps, and touchscreens, where vehicles will inevitably develop into highly connected platforms that rely on software architecture that is both effective and upgradeable, like that of smartphones and laptops. For tech firms, it represents the chance to develop an entire automotive software stack, and for manufacturers, it represents the opportunity to open new revenue channels for passenger entertainment and downloadable upgrades through the beneficial simplification of a vehicle's architecture.
By bringing together all the fragmented pieces of the electrification process through one point of contact and partnering with existing experts in the industry to do so rather than recreating vertically integrated solutions from scratch, EV 2.0 will require less capital, and crucially, less time to bring meaningful progress to fruition. Commercial EVs and last-mile delivery vehicles are ideal candidates for electrification because of their short daily travel distances and set, mapped-out routes with dependable timetables. It's widely recognised that the fleet industry's transition to EVs is unquestionably a net positive, creating regulatory compliance, saving our cities from massive amounts of emissions, protecting the planet, and even saving money and creating more productivity over time. They're lagging in adoption simply because past generations of companies haven't been correctly set up to truly meet customers' needs.
B–ON, the company I am proud to head up, is leading the charge (no pun intended) from EV 1.0 into EV 2.0. Our team of seasoned automotive and tech experts has brought together an entire network of market leaders in each ecosystem component to finally provide the holistic solutions that the market so desperately needs. Customers can come to us with no idea where to start, and we'll work with them to create bespoke solutions from vehicles to software to charging to maintenance and education, then connect with established partners to deliver that solution all through one point of contact at B–ON.
Since our foundation in 2019, B–ON sticks to its core mission: to deliver fleet managers maximum uptime, making the switch from ICE to EV an easy one and educating their teams on the small habits that make EV driving a manageable choice to make. Being sustainable is great, but we know that it's often not the biggest priority for fleet owners. EVs need to make sense for these fleet managers and companies' bottom lines as well – and help them deliver on their promises.
The future? It's much, much closer than you might think. Now is the time for commercial players to be making the switch to EVs, as we aim to create a more accessible and user-friendly electrification experience for the betterment of the logistics industry, the drivers that use EVs daily, the fleet managers investing in EVs, and the streets that are today cluttered with dirty ICE delivery vehicles. By introducing scalability and flexibility to the world of EV fleets with a cohesive ecosystem that provides both the hardware and the software to bring everything together in one seamless view, we accelerate this process once and for all. This is EV 2.0 and the way forward to bring a cleaner, more sustainable and responsible last-mile delivery promise for the future generation.