The race to create the next generation of mobility solutions is becoming increasingly important as our cities are becoming more congested. Major automotive manufacturers are quickly being caught up by startup companies with innovative vehicles powered by new technologies. One such startup is an unexpected entrant in the form of a cryptocurrency company, Minebest.
Founded and run by CEO Eyal Avramovich, he has revealed exclusively to Electric & Hybrid Vehicle Technology International that it is currently working on a luxury electric urban vehicle that it hopes to release in 2022.
Named after Avramovich's children, the Leia Gabriel LUV (Luxury Urban Vehicle) is aiming to be the world's smallest luxury electric vehicle, which is said to offer owners the benefits of navigating crowded cities in high-end comfort described as being like a 'private jet for the road'.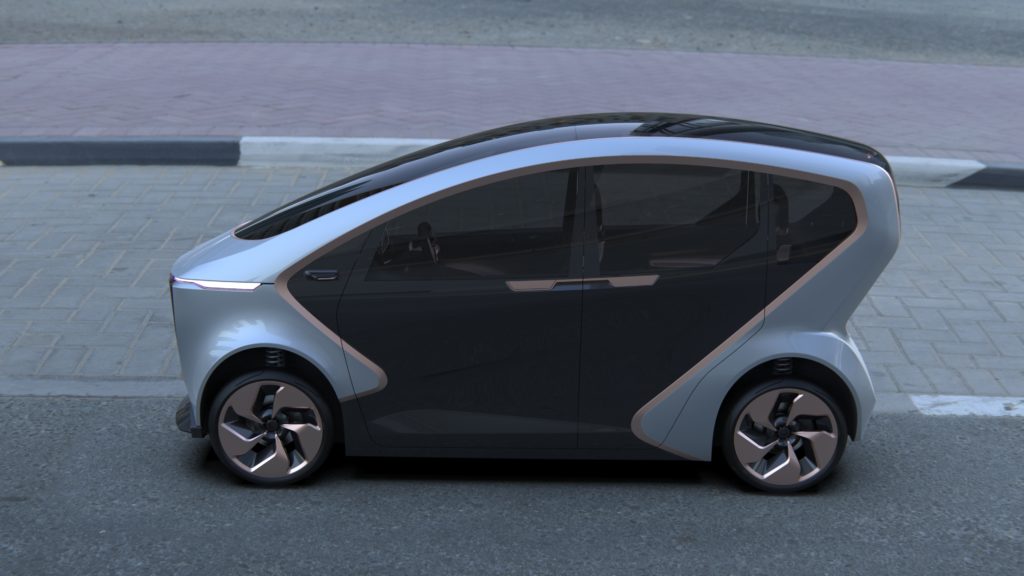 While technical details have not yet been fully disclosed, what has been revealed to EHVTI is that the sleek, narrow track vehicle, just 90cm in width, is based on an in-house platform, has a two-seater configuration with one passenger situated behind the driver, and is powered by a quad motor system with a top speed of 160km/h. Mock-up images reveal a premium-looking design with high sides to offer more head height comfort, while its interior is finished in quilted leather, wood and digital displays.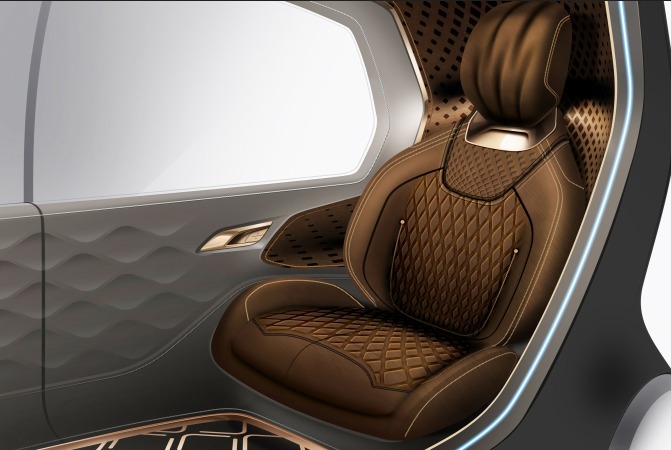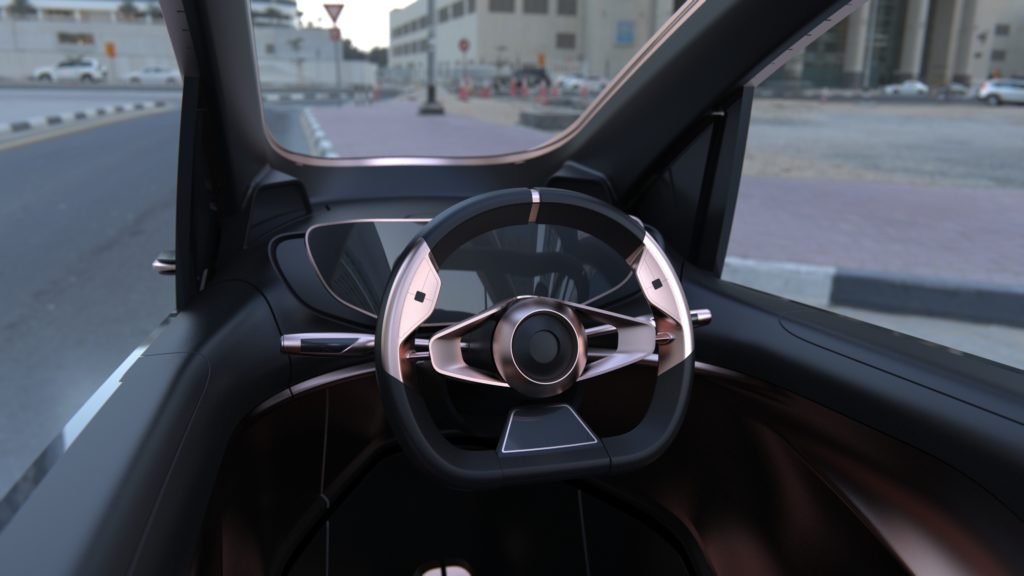 Avramovich told EHVTI that the LUV is spawned from the development of an electric vehicle he created five years ago – a three-wheeled, two-seater, tilting electric vehicle, which bears resemblance to the Toyota I-Road.
The prototype was a cheap and functional solution to urban mobility in China and featured a removable battery that can be taken away to the home to be charged. But it never made it to market. Since then, much has changed for Avramovich, notably the success of his cryptocurrency company, which has given him the chance to re-visit that prototype and turn it into something for a completely different audience.
While a cryptocurrency company is far from the first place you'd expect to be developing an electric car, Avramovich explained in our interview (below) that his experience has driven him to solve problems and he has a vision to create a vehicle to fit where he believes lies a big gap in the market and therefore creates big opportunity.
What has been your motivation to create an electric car?
I like to solve problems. I've been an entrepreneur for more than 20 years and have developed many consumer products in this time. What I wanted to solve when I was living in Tel Aviv city was a way to get from my home to the grocery store while it was raining. I thought 'why can't I have my own vehicle to take me there, protected from the rain and not need to worry about parking'. So, I first looked at a personal vehicle that could carry one person. Then, when I moved from Tel Aviv to China I saw even bigger potential with its crowded cities and it was popular to drive electric bikes.
So, the electric car idea started six years ago when I moved there and created a prototype for US$50,000 over the course of about six months. However, I left it in the garage there for a few years. Now that I have a bigger company, I am able to create a full production version. I have hired designers, engineers, and have workshops to do it the right way – not a homemade version like the prototype.
Can you talk through the design of that first vehicle?
In China, it's important to realize the mass market is interested mostly in function and price. Style is not the first thing consumers there look for. This miniature car I created was about 90cm in width. Other cheap Chinese personal vehicles feature two passengers, so I also decided the prototype should have a passenger [sat behind the driver]. These cheap Chinese vehicles are slow, about 35kmh or less, and they were made from low-cost materials. So, initially I thought this was my competition so I created the prototype this way. But things changed years later when I had more money and when looking at the more affluent market I thought about redesigning the car.
How did the design for the LUV evolve?
I didn't want to compete with the big automotive companies in the market – we're a startup and cannot match the big budgets. But, I thought of doing something very unique that didn't target the average person, and could be something a rich person would want for their next birthday for example, so I started to shape it into a luxury vehicle.
It's a commuter with two seats, that's very luxurious inside. Everything is made from high-quality leather and wood, and we plan to add lots of gadgets including self-driving capabilities. Even at 90cm in width, there is a lot of space. If you can make a car that is special enough and luxurious enough, that high-end target market would prefer to take this in the city rather than their big 4×4 SUV.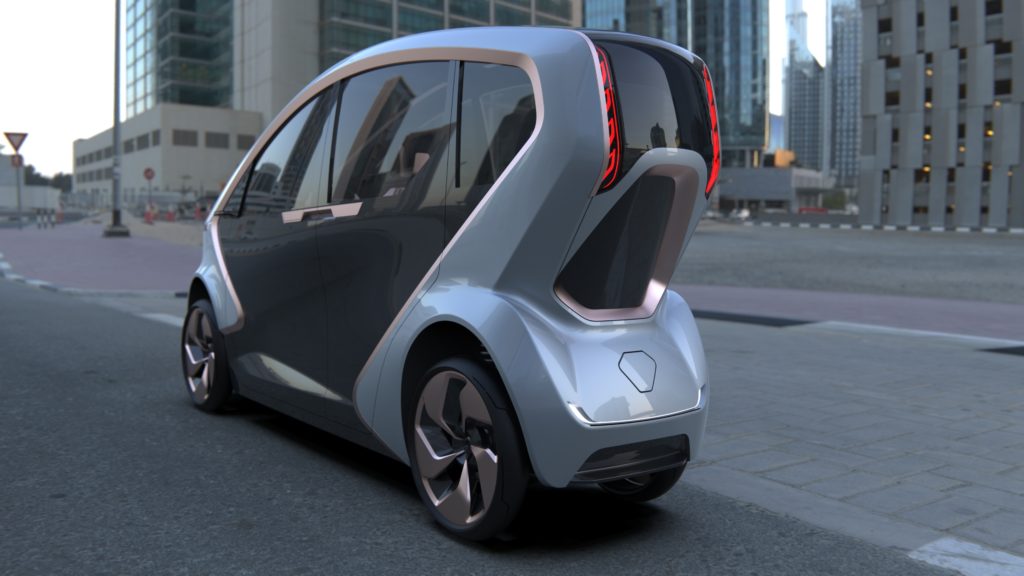 What platform is the vehicle built on? Has this been developed in-house?
This is completely our design. However, at this moment we are unable to reveal the technical details behind the technology we are working with. This includes the powertrain details, but it will be something that no one else has in terms of the driving dynamics and capabilities.
Can you tell us anything about the battery and power specifications?
Initially, we targeted a 160km/h top speed, with a 0-100km/h in around four seconds. And the range we have targeted is around 160km. We studied a lot of public research and came to the conclusion this is the ideal range for our customers.
What was it like developing a vehicle in China – were there many regulations you had to adhere to?
The Chinese market includes many low-powered vehicles with a range of wheelbases that don't have to stick to certain regulations. With our prototype, we were looking to do the same, but now with our full version, it's a high-speed vehicle and we have safety regulations involved and we are taking it all the way with ticking all regulation categories.
How many engineers do you have working on the project?
At the moment we have 10, but there are plans to hire another 10. We are based in Poland and we have a few members of staff who have worked as consultants for 'other car companies'. We are working with many vendors for our technologies, as well as some to analyze our safety systems.
Have there been any particular engineering challenges you have had to overcome?
As we have developed new technologies and we have a patent pending application for the tilting system for components you cannot buy on the market everything comes with trial and error. Toyota's I-Road was a tilter, but they probably produced only a hundred or so. But there hasn't been a tilter developed for high-speed and high-use cases. This will be a test for us and this concept as to whether it can be commercialized. I hope we will be the first company to produce more than 100 tilting vehicles and to pass our one-million kilometers of testing.
In addition to this, there's the consideration of the weight of the car, the center of gravity and everything related to making a small car look cool – all of these are challenges.
What type of testing has been/will be done?
We are doing a lot of software testing at the moment. The tilting system has a lot of components and backup systems. I don't want to take any chances so we are doing a lot of work on this for the rest of this year.
How much investment have you put into the car?
At the moment, I am not targeting the final figure. But what I can say is, I will put all the features I want in this car. It needs to give the feeling to the driver that this does not feel any less than sitting in a Bentley. Whatever it costs, we will do it.
How much will it cost the consumer?
Costs have not yet been revealed, but we have said that if it costs the same as top of the range luxury car, I'm okay with this.
Will it be customizable?
For our type of target market, this is essential.
What markets will the car be launched in?
We have a very strong customer base for Minebest across Asia, so our first target is to build this car to suit the South Korean and Japanese markets. However, we want to grow in Europe, but this isn't our first priority.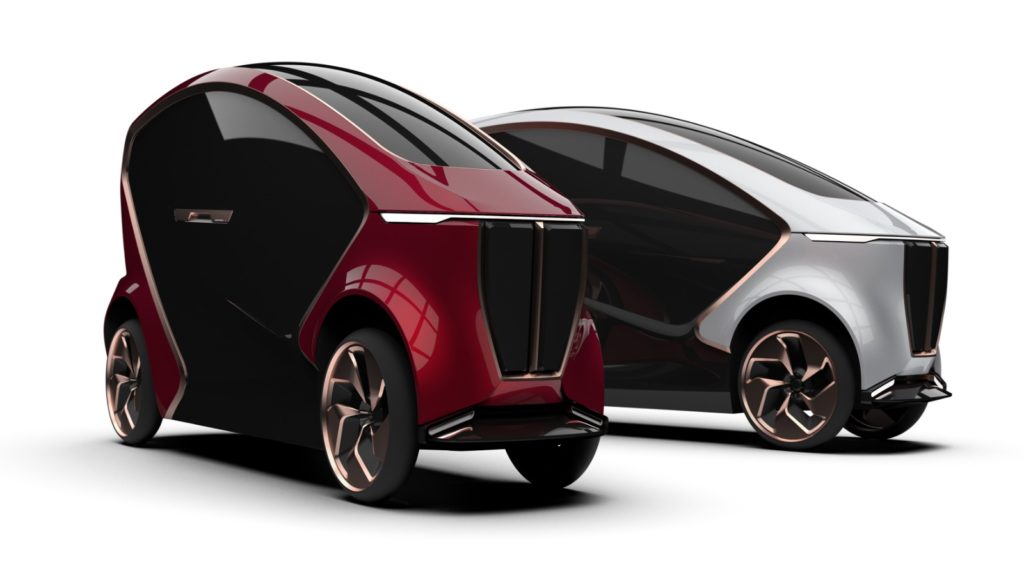 How will customers be able to buy the car?
We have launched a website but even before we did this, word-of-mouth has generated a lot of interest. I keep receiving messages via social media from people asking me where they can buy this car.
With your background in cryptocurrency, how do you see this and blockchain playing a role in mobility in the future?
When you talk about databases, blockchain can make it more secure and almost impossible to corrupt. For automation, it means someone cannot simply upload a new line of code without the community agreeing. An individual cannot change any records, which is very important for AI and self-driving to make it safer.
Has the impact of Covid-19 impacted the car's development?
With Minebest involved with digital currency, this market has grown, which has been beneficial for us and the development of the car as now we have more financial resources to hire more people to work on it. There obviously was a few months where things slowed down in China, but now it's all back to normal.
The difference between us and big companies is that we don't have bureaucracy so we can do what we want and allow ourselves to take risks that some large companies can't. At this point, I don't even care if I don't run a profitable business at the end of the day. I have a vision and nothing will stop me from putting it on the road. Hopefully the new car category we are trying to lead, LUV – Luxury Urban Vehicle will prove its benefits of solving problems for future cities and other industry leaders will join us.