Xylem Inc.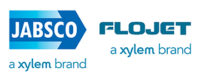 As the market leader in controlled flow pumping technology, Jabsco brings the highest level of reliability, precision, and control to engine cooling and closed-circuit circulation systems. With an extensive product portfolio of plastic sealless centrifugal pumps and heavy-duty 316 stainless steel centrifugal pumps, Jabsco has the ideal solution for a wide range of both simple and complex circulation applications.
Thanks to their simplified engineering and operation, Jabsco pumps make routine maintenance easy. And with our technical expertise to solve any controlled flow challenge – backed by Xylem's globally optimized supply chain – we help manufacturers drive innovation, grow market share, and meet the needs of end users.
At Xylem, we're a global team unified in a common purpose: using advanced technology to solve the world's water and fluid challenges. In more than 150 countries, we have strong, long-standing relationships with customers who know us for our powerful combination of leading product brands and applications expertise.
Find out more about Jabsco Cyclone centrifugal pumps