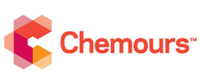 The Chemours Company is a global leader in Titanium Technologies, Thermal and Specialized Solutions, and Advanced Performance Materials. It provides its customers with solutions in a wide range of industries with market-defining products, application expertise, and chemistry-based innovation. Chemours is a different kind of chemistry company dedicated to making chemistry as responsible as it is essential. Guided by that purpose, 2018 Chemours released ten bold Corporate Responsibility Commitment goals to achieve by 2030. Ranging from waste and greenhouse gas emission intensity reduction to safety and diversity and inclusion goals, Chemours is advancing responsible chemistry every day. The company has approximately 6,600 employees and 29 manufacturing sites serving about 2,900 customers in around 120 countries.
For Electric Vehicle and component manufacturers, Chemours delivers customized material solutions for battery production, e-Motors, electrical systems, heating, cooling, casings, and more. Chemours products for Electric Vehicle manufacturers include Nafion™ ion exchange materials, Krytox™ lubricants, Opteon™ thermal solutions, Teflon™ fluoropolymers and coatings, and Viton™ fluoroelastomers. Learn how Chemours make EV even better.
---


Teflon™ High-performance fluoropolymers enable increased efficiency and longevity in high voltage-systems and lithium-ion batteries.
---

Hoses, seals, gaskets, high-voltage cables and O-rings made with Viton™ Fluoroelastomers stay flexible, elastic, and maintain sealing at higher temperatures and in harsh fluids for longer.
---


Krytox™ Performance Lubricants keep noisy, rattling, and vibrating vehicle components quiet for every ride.
---

Once a critical component in fuel cells in NASA spacecraft, Nafion™ Ion Exchange Materials make fuel cell EVs possible and enable longer driving ranges and greater fuel efficiency.
---

Opteon™ refrigerants manage temperature for enhanced battery performance, and enable cabin comfort inside the vehicle in all seasons.
---